Serving Chilton Area Businesses & Organizations
The Chilton Chamber of Commerce has been supporting local businesses for over 70 years. We promote local economic growth, building strong communities, and business networking opportunities. Our commitment to Chilton and Calumet County are rooted in the hometown values that define Wisconsin.
A Great Place To Do Business
Chilton and Calumet County are home to many national and international businesses. From manufacturing and industrial to agricultural and dairy products, it is a county filled with economic opportunity. Whether your business needs experienced upper management personnel or entry-level assemblers to expand your workforce, you'll find the right people in Calumet County.
Chilton - In The Heart of Northeast Wisconsin
Chilton is an easy 30 to 45 minute drive from every major business district in Northeast Wisconsin. With State Highways 57 and 151 intersecting our downtown, our businesses have easy access to Green Bay, Fond du Lac, Manitowoc, Sheboygan, Appleton and the Fox Valley, and Northern Milwaukee Communities.
Chilton Chamber Cash Program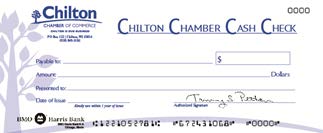 The Chamber Cash Program is designed to provide chamber members an opportunity for increased sales while serving as an outlet for bearers of the chamber checks to redeem them at participating member businesses. This also encourages residents to keep their shopping dollars local. Yearly, the chamber cash program generates over $20,000 in sales right here in Chilton.
How to Buy & Redeem Chilton Chamber Cash
Chamber Cash can be purchased from the Farm and Home service desk during regular business hours. The checks are available in any denomination. When a chamber check is purchased a list of participating members (for redemption) is included. You may redeem your certificate at any participating member.
Businesses can simply deposit the chamber checks at their financial institution as they would any other check.
Mail order Chamber Cash checks are also available by emailing the chamber at info@chiltonchamber.com or by calling the Chamber Secretary, Tammy Pethan at 920-418-1650.
Chilton Chamber Cash Participating Businesses