Chilton Chamber of Commerce Citizen of the Year Award


Recognition for Community Outreach & Engagement
Nominations are now being accepted for the Chilton Chamber of Commerce 2019 Distinguished Citizen of the Year! The achievements of the individual being nominated must have benefited the citizens of the Chilton area, should focus on volunteer related activities rather than be job related, and the nominee must live or work in the Chilton area. Nominations must be submitted on an official form for the current year. The deadline is Monday, February 10, 2020.

The 2018 recipient of the Citizen of the Year is
Jerry Thiel
About the 2018 Citizen of the Year
Over the years, Jerry has put forth many hours of service in volunteering his time and ability by serving on numerous boards, committees, and performing charitable auctions each year for the local church, school groups and non-profit organizations. As an individual he has lived his life and raised his family, right here in Chilton. He knows what it means to give back.
Jerry strives to educate, promote and protect community involvement as well as encouraging others to enhance their skills and professionalism, in accordance with volunteering and giving back. He is looked upon as a very knowledgeable, honest, and professional individual that is called upon many times to help out in one way or another. He has been a role model to many and a great friend and supporter. Jerry does not like to be recognized and often tells others that it is only right to give back for the community to stay strong and continue to grow.
Jerry is the son of the late Randy and Armella Thiel. Jerry has four children: Dori (Tim) Duchow, Brad (Dawn) Thiel, Ken (Cindy) Thiel and Tamara (Nick) Geiser. Grandchildren: Kale and Keaton Duchow; Ashley, Brittney, Andrew Thiel; Alisa Hoerth; McKenzie, Brady and Carliann Thiel; Lukas, Bennett and Ella Geiser. Great-Grandchildren: Lyden, Oliver, Magnolia, Jayden, William and Jackson. Jerry's Siblings are Jane Thiel (deceased in 2013), Jack (Vicki) Thiel, Tom (fiancée Maggie) Thiel
Congratulations on being the 2018 Citizens of the Year. Chilton is proud to have a devoted man like you as a part of our community.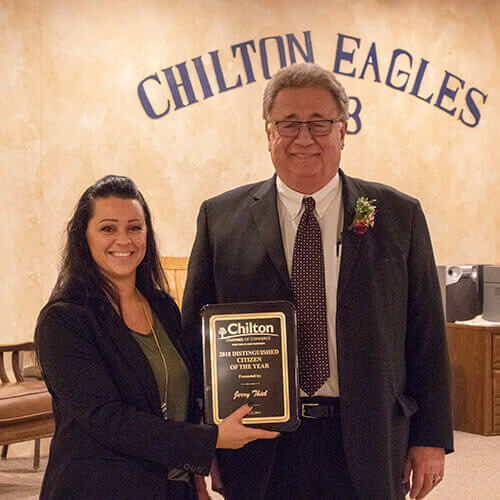 Some of the events and organizations Jerry has been involved with include:
Member of the Kiwanis Club
Member of Chilton Eagles Club
Member of Hilbert Lions Club
Helped organize and prep the Chilton Haunted House
Board of Directors for Ascension Calumet Memorial Hospital
Member/board member of the Chilton Chamber of Commerce
Boy Scouts #802
Member of St. Mary's Parish Council
State of Wisconsin Auctioneers Board
Calumet Board of Realtors - 1982 Realtor of the Year
Board of Directors for the Calumet/Manitowoc Red Cross
Land Information Council for Calumet County
Chilton Community Foundation
Chilton Area Development Board
Mid-Shores Home Builders Association
Knights of Columbus Member
Wisconsin Realtor Honor Society
Wisconsin State Auctioneers Association Hall of Fame
Continuation of 100 years of a local family-owned business
Performed Fundraising Auctions for the following organizations:
Boy Scouts
Girl Scouts
Toast To Our Future (CACS)
St. John/Sacred Heart Parish
St. Mary's School
Whitetails Unlimited
Ducks Unlimited
Pheasants for Tomorrow
Turkey Federation
Walleye for Tomorrow
This is the anchor location for Past Honorees. Do Not Delete!

Past Recipients of Citizen of the Year Award
| Year | Recipient(s) |
| --- | --- |
| 2017 | Jerry Mallmann |
| 2016 | Bud & Barb Wieting |
| 2015 | Al Steiner |
| 2014 | Donald Kampfer |
| 2013 | Richie Loose |
| 2012 | Paul Meier |
| 2011 | Terry Friederichs |
| 2010 | Vern & Edith Knoespel |
| 2009 | Tom Roberts |
| 2008 | Paul Hugo |
| 2007 | John Rodney Ronk |
| 2006 | Derek McDermott |
| 2005 | Chuck Schuknecht |
| 2004 | Al & Cleta Woelfel, Roger & Cheri Kolbe |
| 2003 | Dr. Joseph J. Schlaefer |
| 2002 | Rodney Rautman |
| 2001 | Lila Kilsdonk |
| 2000 | Clem Casper |
| 1999 | Sue Seckel |
| 1998 | Deb Bohn & Carl Siebert |
| 1997 | Daniel Albedyll |
| 1996 | Mary Schuler |
| 1995 | Ruth Ann Thede & Ray Wagner |
| 1994 | Jerry Schneider |
| 1993 | Bill Engler, Jr. |
| 1992 | Flossie J. Edens & Ray Mlada |
| 1991 | Dave & Cindy Berth |
| 1990 | Jerome (Jerry) Koenig |
| 1989 | Greg & Kathy Garton |
| 1988 | Bill Engler, Sr. |
| 1987 | Rose M. Wettstein |
| 1986 | Jim Eisner |
| 1985 | Alpheus W. Larson & Lorraine L. Larson |
| 1984 | Betty Koch & Ed. J. Casper |
| 1983 | Arthur W. Hugo & F. J. Schneider |
| 1982 | Gail Engler |
| 1981 | Dick Gilles |
| 1980 | Barbara Hertel & Louise Sohrweide |
| 1979 | Mary Knauf |
| 1978 | Ken Weber & Beulah Griem |
| 1977 | Roger Nelson |
| 1976 | Robert Mand |
| 1975 | Harry Thompson |
| 1974 | Lester Nelson |
| 1973 | Dave Casper |
| 1972 | Hugo Herzog |
| 1971 | G. G. Bloomer |
| 1970 | Arthur Horst & Neil Nelson |
| 1969 | Evelyn McCarty |
| 1968 | Rev. Roland Ahren, Rev. O.M. Moeschberger & Jack Young |
| 1967 | Dr. K. R. Humke & Dr. James Knauf |
| 1966 | J. Ed. Sohrweide |
| 1965 | Gordon Aebischer |
| 1964 | Orrin Meyer |
| 1963 | Royal Klofanda |
| 1962 | Howard Schucht |
| 1961 | Mr. & Mrs. Vince Todd |
| 1960 | Donald E. Bonk & Vincent G. Reinkober |
| 1959 | Bernice Tesch & Norbert Sturm |
| 1958 | Arthur B. Connell & John Steenport |
| 1957 | Mrs. William Stauss |
| 1956 | Francis J. Flanagan & Rev. William Griffith |
| 1955 | Judge George Goggins, Dr. Goggins & William J. McHale |
| 1954 | Carl Hofmeister & Martin Salm |
| 1953 | John Reinkober & John Schneider |
| 1952 | Arthur Hipke & William Knauf |
| 1951 | Irene Flatley & Theodore Christoph |
| 1950 | Dr. E. T. Rathert & Dr. N. J. Knauf |
| 1949 | Jerome Fox, Judge Arps & Ray Jensen |