Chilton Chamber of Commerce Citizen of the Year Award


Recognition for Community Outreach & Engagement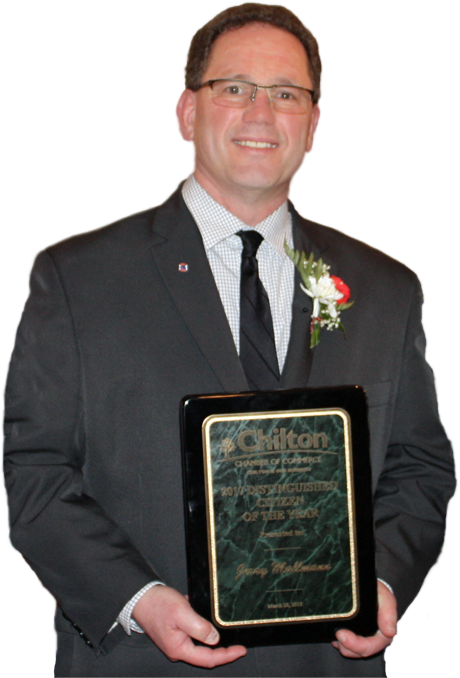 The 2017 recipient of the Citizen of the Year is
Jerry Mallmann
About the 2017 Citizen of the Year
Jerry Mallmann is a very generous, patient, and respectful man.  He is a servant of Christ in everything he does. He believes in giving back and supporting the community and the people in it.  Jerry is generous with his time and talent and doesn't often say "no" when asked. He lives out his faith daily with his family, friends, team members, customers and all who he encounters-not just with words but with his actions.
Jerry is the son of Norbert and Florence Mallmann and is the fourth child of eight. He married Donna Boll in 1983. Jerry and Donna are proud parents of three children: Alyssa (Matt), Francis (Carrie), Beth (Tyler), and one grandson Tesher.
Jerry graduated from Chilton High School in 1978 and started working in the furniture business shortly thereafter. In 1997 he became a partner, and in 2003 became the owner of Chilton Furniture. In his spare time Jerry enjoys reading, spending time with family and friends, traveling with his wife, and of course, volunteering. Jerry and Donna have traveled to Spain, Hawaii and soon to Alaska.
Congratulations on being the 2017 Citizens of the Year. Chilton is proud to have a devoted man like you as a part of our community.
Some of the events and organizations Jerry volunteers with include:
Good Shepherd Parish: Eucharistic minister and longtime lector. Trained through the diocese to become a lay presider over various prayer and communion services such as those at Stanton Place, Libby's House and funerals. Has participated in the Adoration Chapel for many years. Lector and/or serve at special masses and funerals when called upon. Facilitator the last two years of the "That Man is You" program.
Chilton Area Community Foundation: Committee member since 2009 and eight plus years on the advisory board. CACF grants community.
Knights of Columbus: Member for 9 years and is in his second term as, Grand Knight. Currently sits on the board of directors. Active participant in vents such as "Walk of Life" and has organized countless brat fry's and Tootsie Roll campaigns.
Mid Shores Home Builders Association: Board of Directors from 2003-2008, and 2017-present. Served as President in 2015 and 2016. Awarded the President's Award in 2017 for outstanding effort and support of a member. Has been an event sponsor and participant of the Home and Garden Expo and Parade of Homes
Chilton Chamber of Commerce: Active member since 2003. Has served as President for two terms and is a current and past member of the board of directors. Committee member for Crafty Apple Fest, Retail, and Chilton Summer Festival
Chairman of Chilton Summer Festival Parade for many years
Fox Valley Technical College: Advisory Board
Chilton United Fund: Board Member
Committee member of Home and Garden Expo, Parade of Homes and Nominating Committee
This is the anchor location for Past Honorees. Do Not Delete!

Past Recipients of Citizen of the Year Award
| Year | Recipient(s) |
| --- | --- |
| 2016 | Bud & Barb Wieting |
| 2015 | Al Steiner |
| 2014 | Donald Kampfer |
| 2013 | Richie Loose |
| 2012 | Paul Meier |
| 2011 | Terry Friederichs |
| 2010 | Vern & Edith Knoespel |
| 2009 | Tom Roberts |
| 2008 | Paul Hugo |
| 2007 | John Rodney Ronk |
| 2006 | Derek McDermott |
| 2005 | Chuck Schuknecht |
| 2004 | Al & Cleta Woelfel, Roger & Cheri Kolbe |
| 2003 | Dr. Joseph J. Schlaefer |
| 2002 | Rodney Rautman |
| 2001 | Lila Kilsdonk |
| 2000 | Clem Casper |
| 1999 | Sue Seckel |
| 1998 | Deb Bohn & Carl Siebert |
| 1997 | Daniel Albedyll |
| 1996 | Mary Schuler |
| 1995 | Ruth Ann Thede & Ray Wagner |
| 1994 | Jerry Schneider |
| 1993 | Bill Engler, Jr. |
| 1992 | Flossie J. Edens & Ray Mlada |
| 1991 | Dave & Cindy Berth |
| 1990 | Jerome (Jerry) Koenig |
| 1989 | Greg & Kathy Garton |
| 1988 | Bill Engler, Sr. |
| 1987 | Rose M. Wettstein |
| 1986 | Jim Eisner |
| 1985 | Alpheus W. Larson & Lorraine L. Larson |
| 1984 | Betty Koch & Ed. J. Casper |
| 1983 | Arthur W. Hugo & F. J. Schneider |
| 1982 | Gail Engler |
| 1981 | Dick Gilles |
| 1980 | Barbara Hertel & Louise Sohrweide |
| 1979 | Mary Knauf |
| 1978 | Ken Weber & Beulah Griem |
| 1977 | Roger Nelson |
| 1976 | Robert Mand |
| 1975 | Harry Thompson |
| 1974 | Lester Nelson |
| 1973 | Dave Casper |
| 1972 | Hugo Herzog |
| 1971 | G. G. Bloomer |
| 1970 | Arthur Horst & Neil Nelson |
| 1969 | Evelyn McCarty |
| 1968 | Rev. Roland Ahren, Rev. O.M. Moeschberger & Jack Young |
| 1967 | Dr. K. R. Humke & Dr. James Knauf |
| 1966 | J. Ed. Sohrweide |
| 1965 | Gordon Aebischer |
| 1964 | Orrin Meyer |
| 1963 | Royal Klofanda |
| 1962 | Howard Schucht |
| 1961 | Mr. & Mrs. Vince Todd |
| 1960 | Donald E. Bonk & Vincent G. Reinkober |
| 1959 | Bernice Tesch & Norbert Sturm |
| 1958 | Arthur B. Connell & John Steenport |
| 1957 | Mrs. William Stauss |
| 1956 | Francis J. Flanagan & Rev. William Griffith |
| 1955 | Judge George Goggins, Dr. Goggins & William J. McHale |
| 1954 | Carl Hofmeister & Martin Salm |
| 1953 | John Reinkober & John Schneider |
| 1952 | Arthur Hipke & William Knauf |
| 1951 | Irene Flatley & Theodore Christoph |
| 1950 | Dr. E. T. Rathert & Dr. N. J. Knauf |
| 1949 | Jerome Fox, Judge Arps & Ray Jensen |