Chilton Chamber of Commerce Citizen of the Year Award


Recognition for Community Outreach & Engagement
The Chilton Citizen of the Year Award was created in 1949 to recognize members of our community who go "above and beyond" in service to the Chilton community. Candidates are nominated for this annual honor on the basis of their volunteer efforts and personal involvement in the Chilton community. The Chilton Chamber of Commerce honors a new recipient annually at a social in March, with all members of the community invited.
Nominations are solicited from Chilton community members in January and early February and require the completion of a form detailing the nominee's activities. These must have benefited the citizens of the Chilton area, should focus on volunteer rather than job-related activities, and the nominee must live or work in the Chilton area. The winner is selected by a committee of Chamber members.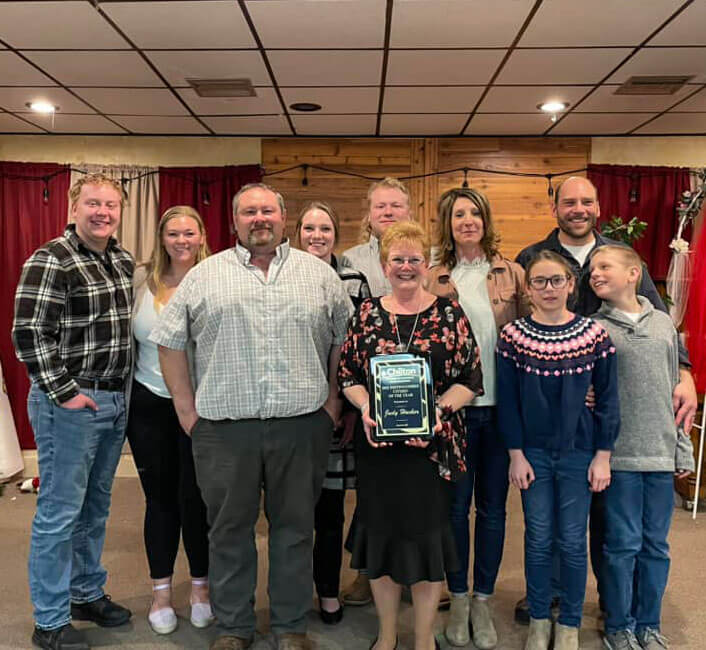 The 2022 Citizen of the Year is
Judy Hacker
For many years Judy Hacker and her late husband Byron have been giving of themselves to volunteer help the people around them and the community that they live in.
Some of the events and organizations Judy volunteers with include:
American Legion Auxiliary Unit #125 member including President-6 years, parade marcher, meal planner, event organizer. Coordinates with Chilton High School for Badger Girls State representatives.
Student Government Days-prepares and serves lunch, teaches youth.
Master Gardeners-officer, garden planner and plant doctor.
4H Leader, Teacher, and volunteer.
Calumet County Fair Superintendent.
Chilton Youth Club volunteer.
Farmer's Market set-up, organize, participate.
Sewed tote bags and blankets for the elderly, veterans, and countless others that need them.
St. Martin Lutheran Church Altar Guild, Women's Group, Scripture Reader, Choir, Funeral Committee Lead, Decorating Committee, Landscape Committee, Dinners, Plant Doctor, Fundraisers, etc.
Drives friends and family to appointments, nurses them back to health, provides meals for them. Calls and checks in on those who are ill, picks up prescriptions and groceries.
Judy's nonstop volunteering goes without recognition. Always willing to get involved, help where needed and to do what needs to be done to benefit our community, youth, friends, and family. She is a very dear friend to so many people. Grandma is another title she holds very close to her heart.
Judy and Byron were married for 50 years until his passing in 2022. They have three children: Nathan, Jeff and Marissa (Scott); and six grandchildren: Lauryn, Brandon, Chase, Meadow, Mason, and Cailyn. They owned and operated Westend Creations for more than 20 years. Prior to owning Westend, Judy worked as a nurse for several doctors at clinics in Chilton and Hilbert. While Byron was in the service Judy worked at an off-base hospital in MO.
Byron was very instrumental in the Juvenile program as a social worker for Calumet County for 33 years, changing the lives of youth, with his gentle, yet firm instruction and guidance. Byron was also very involved in the county fair, 4H program, Master Gardeners, Chilton Youth Club, Legion, Farmer's Market, St. Martin Lutheran Church, and much more.
Judy and Byron worked side by side supporting each other for numerous years. We cannot count the hours Judy and Byron have volunteered to create a better place for all. Always the last person in the kitchen and the last car in the parking lot. Always a smiling face offering a word of wisdom and encouragement, always willing to listen, lend a helping hand and giving out hugs. Never able to say "No".
Congratulations on being the 2022 Citizen of the Year. Chilton is proud to have a devoted women like you as a part of our community. Byron you are missed every day!
This is the anchor location for Past Honorees. Do Not Delete!

Past Recipients of Citizen of the Year Award
| Year | Recipient(s) |
| --- | --- |
| 2022 | Judy Hacker |
| 2021 | Lois Geiser |
| 2020 | Ron & Sandi Kolbe, Luke & Emily Kolbe |
| 2019 | Kim & Nancy McKeen |
| 2018 | Jerry Thiel |
| 2017 | Jerry Mallmann |
| 2016 | Bud & Barb Wieting |
| 2015 | Al Steiner |
| 2014 | Donald Kampfer |
| 2013 | Richie Loose |
| 2012 | Paul Meier |
| 2011 | Terry Friederichs |
| 2010 | Vern & Edith Knoespel |
| 2009 | Tom Roberts |
| 2008 | Paul Hugo |
| 2007 | John Rodney Ronk |
| 2006 | Derek McDermott |
| 2005 | Chuck Schuknecht |
| 2004 | Al & Cleta Woelfel, Roger & Cheri Kolbe |
| 2003 | Dr. Joseph J. Schlaefer |
| 2002 | Rodney Rautman |
| 2001 | Lila Kilsdonk |
| 2000 | Clem Casper |
| 1999 | Sue Seckel |
| 1998 | Deb Bohn & Carl Siebert |
| 1997 | Daniel Albedyll |
| 1996 | Mary Schuler |
| 1995 | Ruth Ann Thede & Ray Wagner |
| 1994 | Jerry Schneider |
| 1993 | Bill Engler, Jr. |
| 1992 | Flossie J. Edens & Ray Mlada |
| 1991 | Dave & Cindy Berth |
| 1990 | Jerome (Jerry) Koenig |
| 1989 | Greg & Kathy Garton |
| 1988 | Bill Engler, Sr. |
| 1987 | Rose M. Wettstein |
| 1986 | Jim Eisner |
| 1985 | Alpheus W. Larson & Lorraine L. Larson |
| 1984 | Betty Koch & Ed. J. Casper |
| 1983 | Arthur W. Hugo & F. J. Schneider |
| 1982 | Gail Engler |
| 1981 | Dick Gilles |
| 1980 | Barbara Hertel & Louise Sohrweide |
| 1979 | Mary Knauf |
| 1978 | Ken Weber & Beulah Griem |
| 1977 | Roger Nelson |
| 1976 | Robert Mand |
| 1975 | Harry Thompson |
| 1974 | Lester Nelson |
| 1973 | Dave Casper |
| 1972 | Hugo Herzog |
| 1971 | G. G. Bloomer |
| 1970 | Arthur Horst & Neil Nelson |
| 1969 | Evelyn McCarty |
| 1968 | Rev. Roland Ahren, Rev. O.M. Moeschberger & Jack Young |
| 1967 | Dr. K. R. Humke & Dr. James Knauf |
| 1966 | J. Ed. Sohrweide |
| 1965 | Gordon Aebischer |
| 1964 | Orrin Meyer |
| 1963 | Royal Klofanda |
| 1962 | Howard Schucht |
| 1961 | Mr. & Mrs. Vince Todd |
| 1960 | Donald E. Bonk & Vincent G. Reinkober |
| 1959 | Bernice Tesch & Norbert Sturm |
| 1958 | Arthur B. Connell & John Steenport |
| 1957 | Mrs. William Stauss |
| 1956 | Francis J. Flanagan & Rev. William Griffith |
| 1955 | Judge George Goggins, Dr. Goggins & William J. McHale |
| 1954 | Carl Hofmeister & Martin Salm |
| 1953 | John Reinkober & John Schneider |
| 1952 | Arthur Hipke & William Knauf |
| 1951 | Irene Flatley & Theodore Christoph |
| 1950 | Dr. E. T. Rathert & Dr. N. J. Knauf |
| 1949 | Jerome Fox, Judge Arps & Ray Jensen |