Summer in the Park Concert Series
June 9, 2022 @ 4:30 pm - 8:00 pm
Chilton City Band
Chilton City Band begins their concert season on Thursday, June 9th at Hobart Park by the Fairgrounds in Chilton. The VFW opens their food and refreshment stand at 5:30 and sells throughout the concert. Music will begin at 7:00 pm. Bring a blanket, lawn chair, or stay in your vehicle and enjoy the music.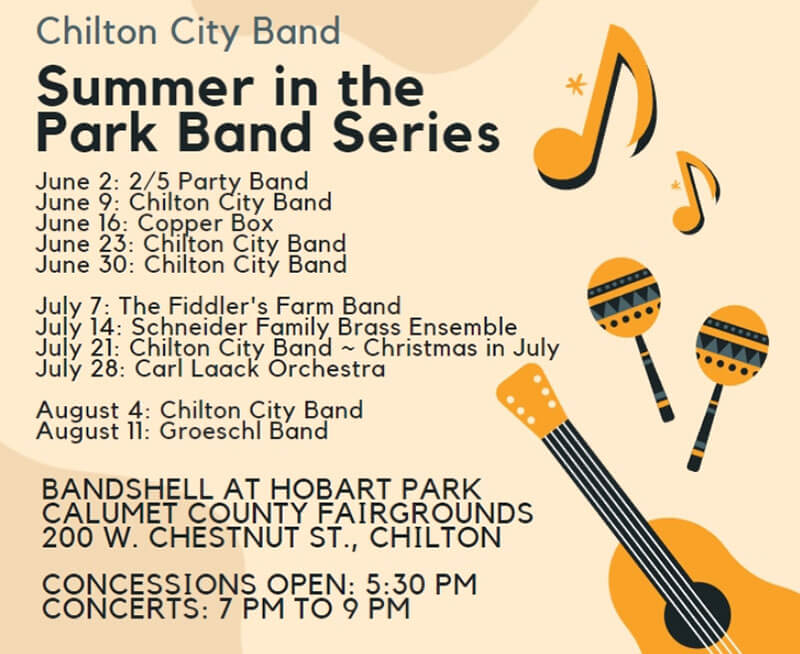 The Band will perform a wide variety of music under their director Michelle Kochan, including the rock and roll hits:
Livin' on a Prayer
Bad, Bad Leroy Brown
I'll Be There
Oldies but goodies including classics:
New York New York
Alexander's Ragtime Band
Mister Sandman
Soul Bossa Nova
Rhumba Numbah
Joyful, Joyful
Malaguena
Let There Be Peace On Earth
From the movie and television screens hummable tunes:
I'd Like to Teach The World To Sing
Hogan's Heroes
The Odd Couple
Music From Grease (Grease Theme, We Go Together, and Greased Lightnin')
Hawaii Five-O
The Best of Glee (Don't Stop Believin', Lean On Me, Sweet Caroline, My Life Would Suck Without You)
Edelweiss
Other selections:
Espani Cani
Syncopated Clock
Classical Gas
Magnolia
Big Noise From Winnetka
The last song of the concert will be God Bless America.
Next week will feature the guest band Copper Box. This Americana Band will put some pep in your step with their tunes.